Renee Miller
Operations & Search Coordinator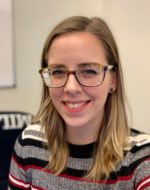 Renee Miller, Operations and Search Coordinator at Sandler Search, has a demonstrated history of working in the non-profit organization management industry. 
Most recently, Renee served as the Operations Coordinator at Success Academy Charter Schools, where she specialized in facilities, logistics, and operations management.
Renee holds a BS in Education and Public Policy with a Minor in Sociology from Pennsylvania State University where she also volunteered for many different philanthropic organizations. Originally from Pittsburgh, Renee now lives in Queens, and she is quickly becoming a Mets fan.