Dana Sloan Baer
Associate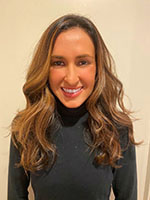 Dana Sloan Baer, Associate at Sandler Search, joined the firm in 2020. She focuses in recruiting senior executives to supervise nonprofit organizations, educational institutions, and foundations.
She brings over ten years of experience in recruiting and marketing in private and non-profit sectors. Most recently, Dana managed research at Sunriver Management. In addition, she assisted with client services and managed search at Exchange Place Partners, a global boutique executive search firm in New York City.
Dana holds a dual BA in Psychology and Criminal Justice from Quinnipiac University. She gets her inspirational values from her extensive travel background from the "March of the Living" to a "Semester at Sea" and developed her passion for supporting underserved global communities.
Dana, an avid runner resides in Fairfield, Connecticut with her husband and two children.