Managing Director
Diller Teen Fellows
Remote/United States (with a preference for Diller Teen Fellows partner community)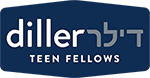 ABOUT THE OPPORTUNITY:
The Managing Director, a newly re-envisioned position, will serve as the senior leader of Diller Teen Fellows ("Diller"). This individual will collaborate with fellow senior leaders of Diller Teen Fellows and the Helen Diller Family Foundation Programs to drive innovation, ensure operational excellence, and maximize overall programmatic impact.
The work of the Managing Director will help advance the three core outcomes for Fellows:
Form stronger Jewish identities and continue a lifelong exploration of their culture, history, and heritage;
Become empowered teens, equipped to discover their own leadership journey; and
Become leaders of tikkun olam / social action, viewing it as their responsibility and opportunity to make the world a better place.
The Managing Director will directly supervise three professionals and manage relationships with partner communities and key stakeholders. This role will report the Executive Director, Helen Diller Family Foundation Programs, with a dotted line to the Deputy Executive Director, Helen Diller Family Foundation Programs.
Key responsibilities include:
Management & Organizational Culture
Motivate and supervise IDTF senior staff members, including: Senior Fellowship Director and Senior Director of Operations (Israel based), as well as the North American Program Assistant (San Francisco based). Possibility of additional direct reports.
Inspire and help mentor all IDTF staff through the modeling of staff culture support for and creation of professional development opportunities.
Partner with senior leadership to ensure a positive, collaborative, and highly productive organizational culture, for staff, partners, and program participants.
Visionary Leadership & Strategy:
Work with fellow senior leaders to continue the implementation of the Diller Teen Fellows Evolution Plan, ensuring programmatic and operational excellence as well as measurable impact across North America, in Israel, and beyond through the International Diller Teen Fellows program (IDTF).
Oversee fiscal management, safety and security, and day-to-day operational success of the program.
Serve as central public representative of Diller Teen Fellows, representing the program in the larger Jewish community and teen education space.
Guide Diller's approach to education, impact, and evaluation, continually assessing and addressing challenges and successes.
Maintain and model consistent staff culture, ensuring staff members are adhering to communal standards while seeking opportunities to celebrate individual and group accomplishments.
Partnerships & External Relations:
Develop and foster relationships with high-impact program partners including cutting-edge institutions, subject-matter experts, and inspirational changemakers.
Serve as the direct relationship manager for partner communities in North America and International (outside of Israel).
In partnership with the Executive Director of Helen Diller Family Foundation Programs, lead the implementation of Diller's marketing and communications strategies to ensure optimal brand awareness and engagement.
ABOUT DILLER TEEN FELLOWS:
Diller Teen Fellows is recognized as a premier identity-building and leadership development program for Jewish teens. Established in San Francisco in 1998 by the Helen Diller Family Foundation, the program provides a cutting-edge model for experiencing Jewish pluralism and Peoplehood.
Today, Diller has 16 partnerships across 32 participating communities in seven countries; each community selects a Cohort of twenty teens to participate in the yearlong Fellowship experience. Diller's network of 5,000 alumni leaders are actively engaged in making a difference in their communities, Israel, and the Jewish people.
CORE VALUES & COMPETENCIES:
Diller is seeking a dynamic, outcomes-driven senior leader and manager who brings a passion for social action, identity-building, and Jewish pluralism and Peoplehood. Additionally, the Managing Director will bring 10+ years of experience developing and managing programs, with an understanding of and appreciation for experiential education. Prior professional experience with a Jewish communal nonprofit organization is preferred. Prior experience working with individuals and institutions in Israel is a plus.
The successful candidate will be:
A motivational and supportive manager – you have managed a diverse team and enjoy cultivating the unique strengths of each contributor.
A savvy partnership builder – you seek out opportunities to build strategic and meaningful relationships with prominent thought-leaders and stakeholders.
A skilled and persuasive communicator – you can effectively convey a point of view verbally or in writing to stakeholders, partners, staff, and/or program participants.
An innovator who challenges the status quo – you have a track record of ideating and implementing bold strategies for engaging and developing socially conscious leaders.
A natural collaborator and consensus-builder – you have experience working with fellow senior leaders around shared goals and consistently demonstrate sound judgement.
EDUCATION: BA in a related field required, with a graduate degree preferred.
TRAVEL: Domestic and international travel 20% of the time, including up to three weeks in Israel each summer, 3-4 annual seminars and staff meetings in various locations, and domestic visits to partner communities. Note: All Diller Teen Fellows employees will continue to work remotely, with no required travel, through October 2021.
ADDITIONAL ORGANIZATIONAL INFORMATION:
Diller Teen Fellows is housed within The Jewish Community Federation and Endowment Fund (the Federation) of San Francisco, the Peninsula, Marin and Sonoma Counties. North American-based staff members are employed by the Federation, though many work remotely in other communities.
TO APPLY:
Please send a cover letter and resume or nominations in confidence to:
Diller Teen Fellows is an Equal Opportunity Employer and encourages candidates of all backgrounds to apply for this position.