Education Director, North America
Diller Teen Fellows
Education Director, North America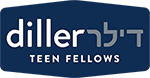 ABOUT THE OPPORTUNITY:
The inaugural Education Director, North America ("Education Director"), will lead all curricular deliverables for the program. The Education Director will work in close partnership with the Diller Teen Fellows education team to develop, train, implement, and evaluate the Diller Teen Fellows curriculum, including workshops, weekend retreats and immersive travel elements.
The work of the Education Director will advance three core outcomes for Fellows:
Form stronger Jewish identities and continue a lifelong exploration of their culture, history, and heritage;
Become empowered teens, equipped to discover their own leadership journey; and
Become leaders of tikkun olam / social action, viewing it as their responsibility and opportunity to make the world a better place.
The Education Director will directly supervise two professionals and have a significant role in the continued implementation of the recently completed Diller Teen Fellows Evolution Plan, specifically the advancement and solidification of "Diller-style programming." In partnership with the leadership team, the Education Director will help to establish Diller Teen Fellows as a best in class experiential education program for teens.
The role will report to Hadas Nir, Senior Fellowship Director of Diller Teen Fellows, and will work in close partnership with the Education Director- Israel, Senior Fellowship Director, and the Program Specialists/Mentors.
Key responsibilities:
Curriculum Development, Implementation & Growth:
Drive the ongoing creation, maintenance, adaptation, and expansion of the Diller Teen Fellows curriculum.
Work closely with all Program Specialists/Mentors in North America and Israel on curriculum implementation in partner communities.
Advise colleagues in other Helen Diller Family Foundation programs around educational deliverables throughout the year.
Partner with the Director of Alumni Network & Engagement to ensure consistency between the Fellowship and the Junior Counselor program.
Regularly assess the balance of global Diller education deliverables with local community needs and response to current events.
ABOUT DILLER TEEN FELLOWS:
Diller Teen Fellows is recognized as a premier identity-building and leadership development program for Jewish teens. Established in San Francisco in 1998 by the Helen Diller Family Foundation, the program provides a cutting-edge model for experiencing Jewish pluralism and Peoplehood.
Today, Diller has 16 partnerships and 32 participating communities in seven countries; each community selects a cohort of twenty teens to participate in the yearlong Fellowship experience. Diller's network of 5,000 alumni leaders are actively engaged in making a difference in their communities, Israel, and the Jewish people.
CORE VALUES & COMPETENCIES:
The Education Director, North America, will bring 10+ years of experience within the Jewish education sector with a proven record of successful education, facilitation, training, and programming development experience. Prior experience working with individuals and institutions in Israel is preferred.
The successful candidate will be:
A forward-thinking Jewish educator – you are passionate about Jewish pluralism and Peoplehood and eager to explore these concepts with next generation leaders. You are a leader in experiential education, and are committed to creating the best in experiential education in the Jewish and broader community.
A bold and thoughtful leader– you are unafraid to take risks and able to empower and inspire others.
A natural collaborator – you have demonstrated ability to lead and contribute to a team of diverse, creative, and committed professionals.
A resourceful and solution-oriented facilitator – you can effectively utilize cutting-edge experiential education practices, including virtual learning platforms, tools, and materials.
EDUCATION: BA in a related field required, with a graduate degree preferred.
TRAVEL: Domestic and international travel 20%, including up to three weeks in Israel each summer. Note: All Diller Teen Fellows employees will continue to work remotely, with no required travel, through at least March, 2021.
ADDITIONAL ORGANIZATIONAL INFORMATION:
Diller Teen Fellows is housed within The Jewish Community Federation and Endowment Fund (the Federation) of San Francisco, the Peninsula, Marin and Sonoma Counties. North American-based staff members are employed by the Federation, though many work remotely in other communities.
TO APPLY:
Please send a cover letter and resume or nominations in confidence to: Diller@SandlerSearch.org
Diller Teen Fellows is an Equal Opportunity Employer and encourages candidates of all backgrounds to apply for this position.