Chief Operating Officer
Hillel International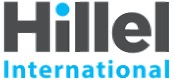 HILLEL AT A GLANCE:
For nearly a century, Hillel's network of dedicated student leaders, professionals and volunteers have encouraged generations of young adults to celebrate Jewish learning and living, pursue social justice (tikkun olam and tzedek) and connect to their peers and the global Jewish people. By participating in life-changing trips and campus initiatives, students learn to make a meaningful impact on the future of the Jewish people and the world while they grow intellectually, socially, and spiritually. The Schusterman International Center (SIC) serves as the umbrella organization for Hillel International, supporting local Hillels to ensure that we achieve our mission "to enrich the lives of Jewish students so they may enrich the Jewish people and the world." Learn more about us here: https://www.hillel.org/.
YOUR OPPORTUNITY FOR IMPACT
In two years, the Hillel movement will celebrate its Centennial. As Hillel looks back on 100 years of fostering Jewish life on campus, Hillel International is making the critical investments necessary to vault the Hillel movement with strength into its second century. In order to meet this important moment for Hillel and the Jewish future, Hillel International is seeking a Chief Operating Officer to join its leadership team. The COO will partner with Hillel International's CEO, other senior leaders and the Board of Hillel International to inspire and drive innovation and impact through all of its workstreams, so that Hillel as a movement can in turn fulfill its mission of enriching the lives of Jewish students so that they can enrich the Jewish people and the world.
Reporting to the President and CEO, Adam Lehman, and managing a team of 35+ professionals, the Chief Operating Officer will serve as an organizational leader responsible for strengthening the Schusterman International Center's overall organizational capacity, guiding its delivery of talent and programmatic efforts, strategic initiatives, and building partnerships to ensure its success.
More specifically, the COO is charged with the following key responsibilities:
Organizational Development and Talent Management:
The COO will lead efforts to grow the talent capacity and strengthen the organizational culture at the Schusterman International Center, so the SIC can fulfill its unique role in supporting the Hillel field. To do so, the COO will optimize SIC's organizational design, address key talent gaps based on the rapidly changing landscape in which Hillel operates, and create an organizational culture that maximizes opportunities for the ongoing professional development and success of every member of the SIC team. Within the COO's organization and culture-building mandate, the COO will incorporate the following key elements:
Agile Organization: The COO's orientation to talent and organizational design should start from a philosophy of agility, deploying "Tiger Teams" and other cross-functional approaches that maximize teamwork, and emphasize talent growth and development.
DEI and SRE: The COO will work to ensure the organization's continued investment in and progress toward Hillel International's Diversity, Equity and Inclusion goals and Safety, Respect and Equity commitments.
R&D Culture: The COO will bring an innovator's mindset and tool kit in cultivating a strong R&D culture across the SIC's work streams, so that the SIC can evolve its approaches in line with the rapidly evolving needs of the Hillel field.
Logical Design: The COO will follow the maxim of "form following function" to strive for an organizational design that is logical, efficient and that provides a great "User Experience" for field partners and other stakeholders.
The COO will also serve as a key partner to the CEO and broader leadership team in designing and implementing a dynamic prioritization process that harmonizes strategic objectives with available resources and makes the trade-offs necessary to promote sustainable work/life balance for team members; work in close partnership with the Chief Advancement Officer and Chief Financial Officer on planful budgeting and forecasting that sets the organization up for strong financial performance; implement and maintain internal communications practices and channels that promote alignment and understanding across the SIC's highly distributed organization; and manage through a steady stream of ad hoc organizational opportunities and challenges that are a byproduct of Hillel International's profile and the fast-changing landscape in which it operates.
Programmatic Impact:
Hillel International is privileged to have the trust of philanthropic partners who are invested in Hillel's mission and support Hillel International's movement-building investments and activities. The COO will assess and guide the SIC's prioritization of these investments and activities. In doing so, the COO will implement an integrated and user-design centered approach to determining the key areas where the SIC can deliver the greatest impact based on its unique posture within the overall Hillel movement. The COO will partner with the Chief Strategy and Campus Success Officer and SIC measurement team to implement data-driven approaches for ongoing measurement and evaluation of the SIC's overall performance and impact.
Strategic Evolution:
Gen Z students present a new and increasingly diverse profile of students Hillel is serving; higher education is undergoing ongoing transformation; and how young Jews engage (or don't) in Jewish life continues to shift. The COO will draw on a combination of (i) the macro strategic planning work of the SIC's Chief Strategy Officer and associated strategy and measurement team and (ii) the domain-specific strategic planning of individual programs and functions to ensure the SIC has the right talent and capacities to support both current and new approaches to fulfilling Hillel's mission.
The COO will also provide added leadership capacity in executing on timely strategic initiatives that meet the moment. Recent examples of strategic initiatives include Hillel International's pivot to new digital engagement channels during the pandemic, including through Hillel@Home, Higher Holidays and the Hillel College Fair, and its rapid expansion of movement-wide fundraising vehicles, such as Hillel Global Giving Week. Upcoming strategic initiatives will include the multi-faceted celebration of Hillel's upcoming Centennial and Hillel's growing investments in promoting R&D culture and experimentation across the Hillel field.
Partnership & Growth:
As a member of the Hillel International senior leadership team, the COO will also serve as a representative for the organization with key stakeholders, including the Hillel International Board of Directors, the Hillel field (professionals, lay leaders and student leaders), major Hillel donors (foundation and individual) and ecosystem partners. The COO will partner with the CEO, Board and other members of leadership to secure the critical resources and partnerships necessary to support organizational priorities. In that regard, the COO will seek to maximize partnership opportunities and value, so that the SIC can focus on its unique roles and capabilities and leverage those of complementary organizations where possible.
ABOUT YOU & WHAT YOU BRING:
Do you feel called to the mission of creating a strong, inclusive and vibrant Jewish future and, through that process, making a positive impact on the broader world? Do you see life and work as a team sport, and one in which you can play a key contributing role in architecting, organizing and supporting teammates toward their greatest impact and success? Are you a flexible, innovative and solution-oriented thinker, who enjoys the challenge of pursuing ambitious goals and taking on difficult problems? If so, you may be a good candidate to serve as Hillel International's new Chief Operating Officer.
Hillel International is looking for the following key professional and personal attributes.
Commitment to Hillel's mission, and alignment with Hillel International's organizational and movement values.
Significant operating and leadership experience, ideally 18+ years with organizations of 100+ staff members and revenues in excess of $50 million
Effective and inspirational manager with experience managing a broad array of functional areas and teams of people with ambitious goals.
Excellent problem solving, analytical, and organizational skills.
Entrepreneurial orientation, demonstrated through start-up experience and/or leading successful intrapreneurial initiatives in larger organizations
Collaborative leadership style, that reflects high emotional intelligence, self-awareness, and a team-first orientation
Demonstrated commitment to developing and growing direct reports and other colleagues through excellent people management
Compelling communication skills that can engage and inspire diverse groups of colleagues, stakeholders and partners
Dedicated to the values of diversity, equity, inclusion, and belonging and passion for social justice and tikkun olam.
COMPENSATION: Minimum compensation $240,000. Salary and benefits are competitive and commensurate with experience.
TO APPLY: Please email cover letter and resume or nominations in confidence to: Hillel@sandlersearch.org
——————–
Hillel believes in supporting individual's growth and potential at all stages and is committed to creating equitable and representative work environments.  Research shows that women and individuals who hold underrepresented identities tend to only apply to jobs that they believe they meet all of the qualifications for.  Job descriptions are aspirational, and no one meets every bullet listed. Hillel strongly encourages applications from individuals with varied identities and backgrounds, including people of color, women, people with disabilities, immigrants, LGBTQIA+ people, and people who come from low income or working class backgrounds. 
As an equal opportunity employer, all individuals are encouraged to apply without regard to race, color, religion, age, disability, national origin, gender, sexual orientation, marital status, ancestry, genetic information, medical condition, veteran status, or any other class protected under federal, state, or local laws.